Submit Feedback and Request New Features
Submit Feedback and Request New Features
---
Share feedback
Thanks for sharing your feedback!
En Español

We're constantly updating STACK to make it the best tool possible. To do that, we rely heavily on feedback from the people who use it every day.

STACK's Feature Requests section lets you to see what features and improvements we're working on, provide feedback on them, and submit new ideas.

Let us know how to make your job easier.

NOTE: You cannot access the Features Request section with a free STACK account.
---
Review Our Current Product Roadmap
1. Click on the Settings icon (person w/gear) in the top toolbar.
2. Select Feature Requests and a new window will open with four tabs across the top.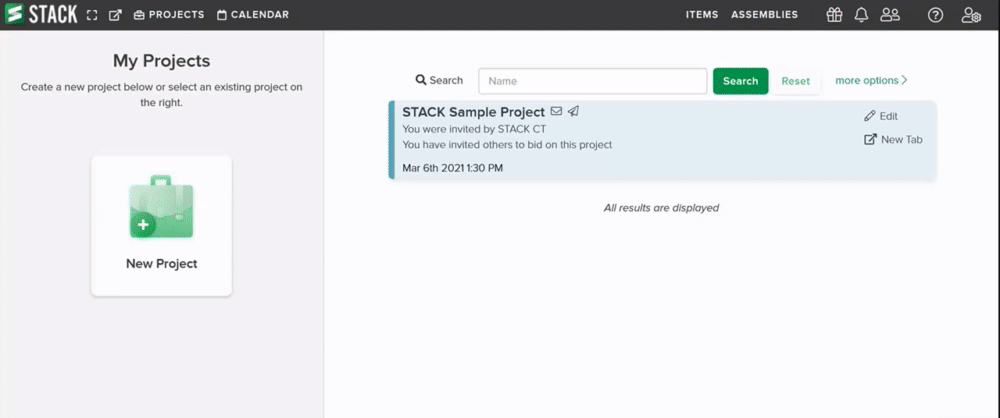 The four tabs detail features that are in different stages of development:
Under Consideration – features that are being consideration for future development
Planned - features that are expected in the next 3-6 months
In Progress - features that are in development and will be available soon
Released - features that have been released and are available in the software
You can click on the tile for any feature to read a brief description and give feedback on that feature.
---
Submit Feedback and Vote for Your Favorite Features
Let us know which features would make your STACK experience even better.
Click on a feature to bring up the description/feedback window.
Choose Nice to Have, Important, or Critical to help us understand the potential impact on your workflow.
Add notes on why this feature is important/how it will help you.
Click Submit.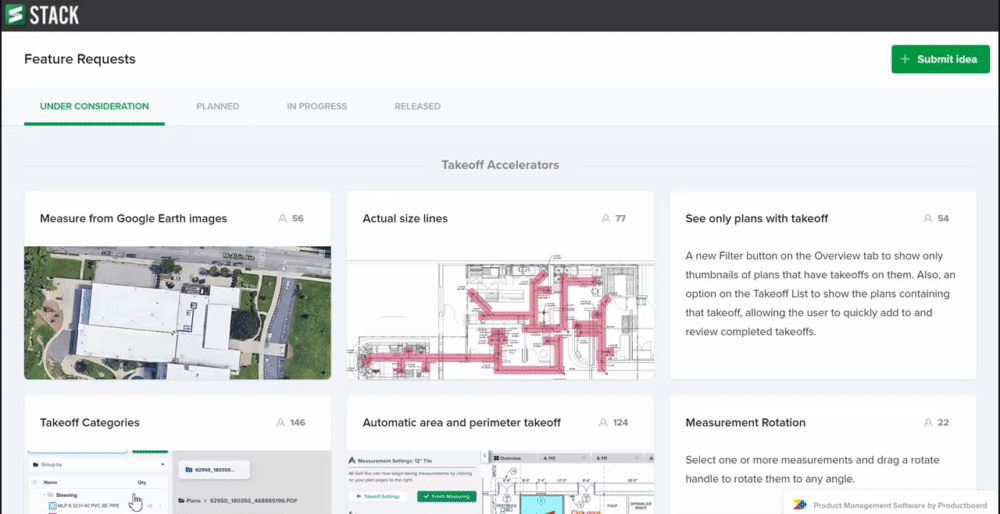 ---
Submit a New Idea or Feature Request
If you have an idea for a new feature or improvement that isn't already listed, let us know.
Click the Submit Idea button in the top right corner of the Features Request page.
Enter a brief description of what you'd like to be able to do and how it would help your workflow.
Select the level of importance - Nice to Have,Important, or Critical.
Click Submit.

The information will be sent to the STACK product team for review.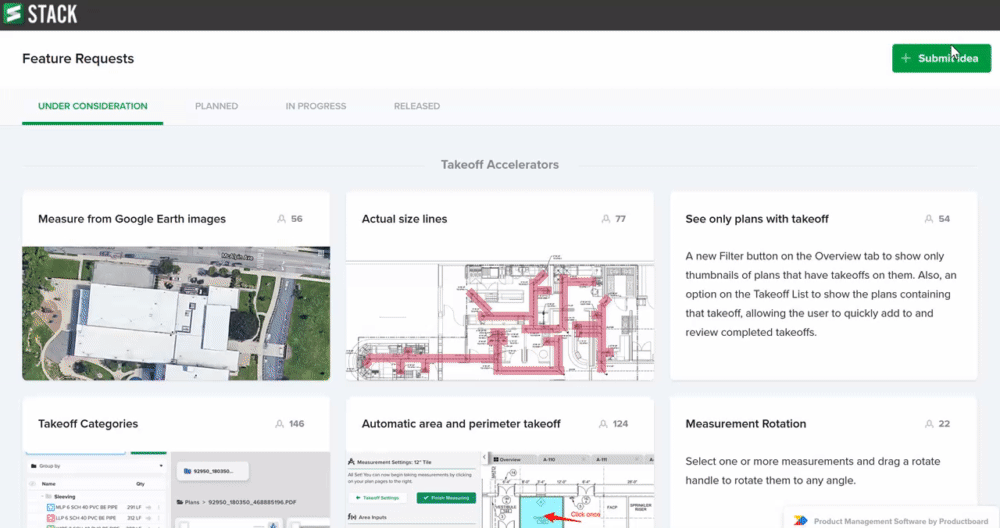 ---
If you need additional assistance, please Contact Us.
---
Was this article helpful?
---
What's Next